The English pointer has been promoted for field and bench competitions in the Netherlands for more than 120 years. After setbacks from both world wars, there was a revival in the mid 1960s with imports primarily from Denmark and England, as well as continued cooperation across the borders to Belgium and Germany. Some Italian blood lines also found their way to the Netherlands. In the mid 1980s the Nederlandse Pointer Club joined the Pointer Club International, which gained more insight and access to the European Pointer Championships, both in Quête de Chasse and in Grande Quête trials.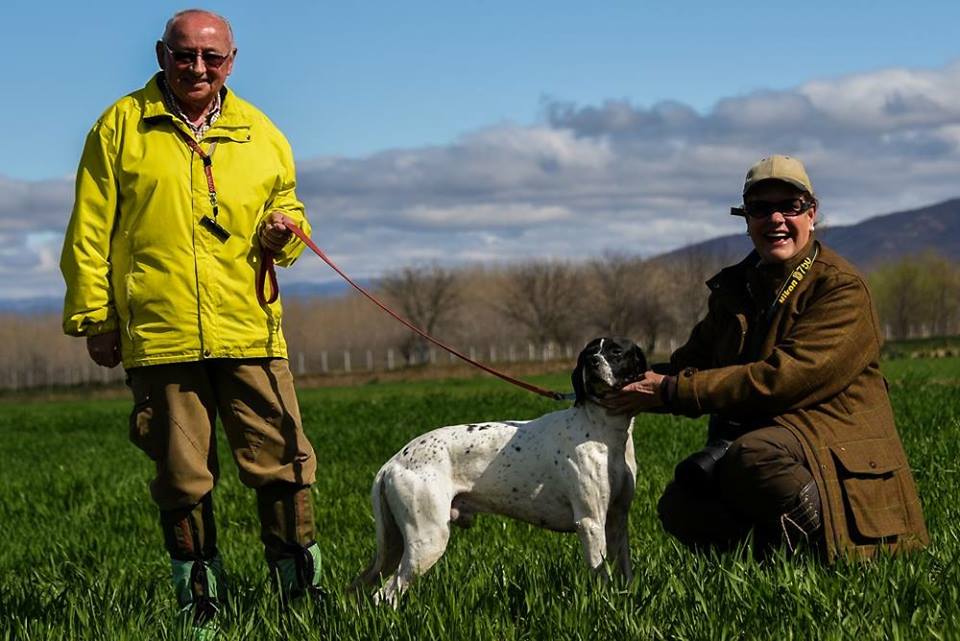 This is the time Wim Joustra enters international field trial competitions. With the Italian import Quenta he is the first to win 1st Excellent in a French Grande Quête trial with a Dutch owned pointer, an amateur handler amongst seasoned professionals. Wim and Ilona Joustra are located in South Holland, near Rotterdam, where they at the time ran their own business. Their dedication to compete at the biggest stage with their pointers kept growing. Quenta was imported from Nazareno Semeghini, bred by using his own stud Floc (Bill – Mara) on Eta del Tiones (Igor del Tiglio d'Oro – Catia del Tiones). Floc was an important stud and produced several top dogs, like Brus di Valeggio, one of the very best pointers of the early 1990s. The man behind the del Tiones lines was Bettino Visentini, one of the important trainers after the war. He trained and handled Debora du Harlay (sister of Dior du Harlay), one of the French imports by Xocrate du Harlay, who boosted the Italian pointer breeding. Visentini bred dogs like Dior del Tiones, who had Debora's younger brother Firmin du Harlay as grandsire. Dior del Tiones is found behind Guberti's important stud Cariddi del Vento.
Quenta kept performing well in the field and being a beautiful pointer also became a bench champion. To find a suitable mating partner, they went back to Italy and used Giles del Bocia, a proven stud also in Semeghini's breeding. Giles was by FTCh Masof del Bocia, a son of the legendary Sernos del Bocia. From this litter, born in July 1988, Wim and Ilona kept Mohawk and Marit. Both dogs made their mark both in the field and on the bench. Both of them, like their mother, also with high placings in Grande Quête (in Belgium, France and Germany) as well as in Quête Francaise. Mohawk also achieves a placing at the 1996 Coupe d'Europe. I remember him best for an excellent run in the German Pointer Club's "Sommerpaarsuche" at Amöneburger-Becken in August 1995. There were no birds in the brace but his ranging was superb, first on stubble then two fields of beets covered to perfection.
In the mid 1990s, while Mohawk was used at stud both in the Netherlands and in Denmark, Marit was mated with Semeghini Valerio. Marit's mating was unfortunately unsuccessful, so instead they imported the two siblings Semeghini Manuel & Manuela, by Semeghini Valerio (Masof del Bocia - Piera) and Semeghini Vera (Giles del Bocia – Semeghini Querida). These two siblings were trained and trialed over the next couple of years and got some placings in trials, Manuel also in Grande Quête, but didn't reach the level they had experienced with Mohawk, Marit and their mother. Wim and Ilona wanted to push harder into the GQ competitions and were looking for the right opportunities through their many professional friends, whom they had known for years on the trial circuit.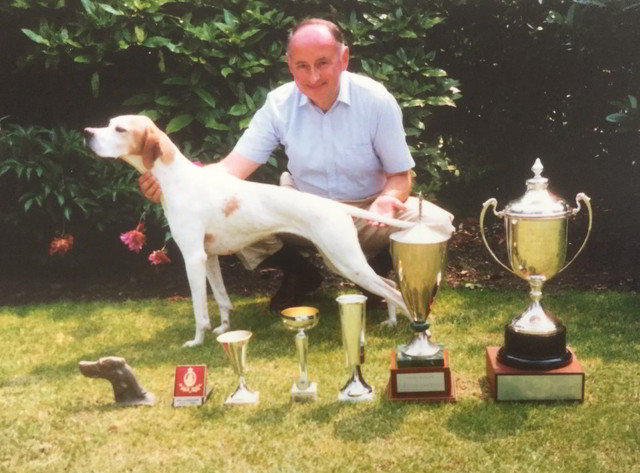 Wim was the first person who told me about a superb, young dog who had come through in Italy called Ribot della Noce. It was not such a big surprise that in 1998 a new direction for their dog material came with Bester, who was by Ribot della Noce (Cariddi del Vento – Edy) – Alpinensis Luna (Ardito del Vento – Ambra). Bester was often handled by the professional Franco Tognotti. From then onwards nearly all their dogs have had both Ribot and Ardito in their pedigrees, often multiple times. The one exception was Gary, acquired when Bester was 3 years old, who didn't have Ribot. Gary was the last son of the top dog Nobel, handled by Giorgio Baldoni. Gary's mother Edel was a daughter of Ardito del Vento. For a few years Bester and Gary were the two main Dutch representatives in international trials, with many great results. Bester became an international FTCh and Gary won the Dutch "Diana-prijs".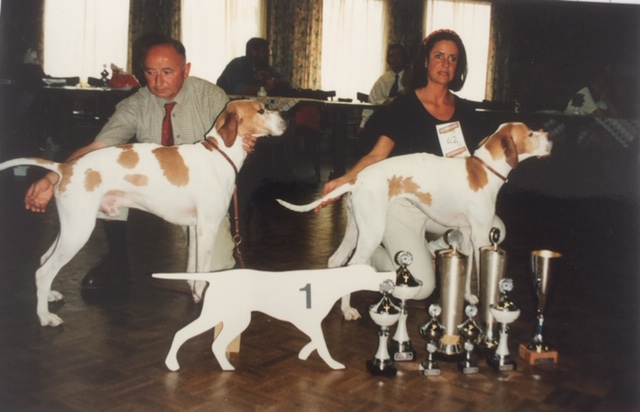 The following decade saw the arrival of Barbaro (Sansone – Rime), with hard line breeding on Ardito, and a couple of years later half-brother Saxo (Sansone – Zena). The latter was inbred on two full siblings. Sansone and Zena were by the great worker Rio (Ribot della Noce – Cali) and Sibilla (Xeno del Sole – Greta). Xeno and Greta were both by Ardito.
Barbaro and Saxo picked up were Bester and Gary left and performed well for Wim and Ilona (and the Netherlands). Saxo was early on handled by Giacomo Cantoni as well as by Wim. Saxo went on to become an Italian FTCh. As Wim was enjoying his successes with Saxo from Serbia to Andalusia, Ilona secured herself the Portuguese bred Jim dos Potinhos, whelped in May 2014. He was left in the hands of the Spanish professional Pablo Fernandez, who trained and handled him. Jim dos Potinhos was by Devil dos Potinhos (Bisbal del Estilo y Pasion – Xe dos Potinhos), with the likes of Ribot della Noce and Alto del Vento (imported to Spain) behind him. Jim's mother was Cally dos Potinhos (Usard dos Potinhos – Vetta dos Potinhos), also with a strong pedigree, which also included Alto del Vento and top dogs like Ardito del Vento and March della Cisa. Sergio Afonso's dos Potinhos is a successful kennel from the northernmost part of Portugal. Last autumn he won the International Pointer Championship with Jessy Jay dos Potinhos (Gas dos Potinhos - Semeghini Raja). Gas was an older brother of Jim.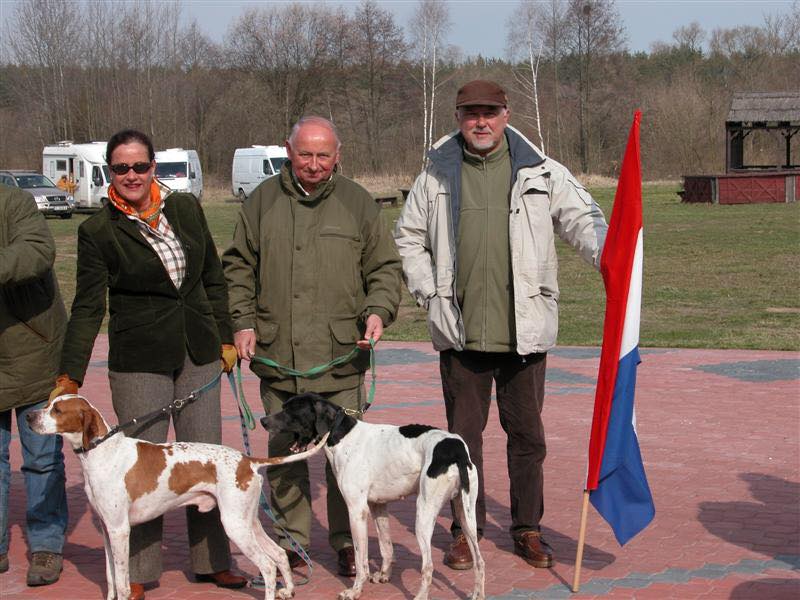 Ilona didn't stop there and the following year she got Caronte del Cangia from Giacomo Cantoni, who bred, trained and handles him in trials. With this the Joustra household had three top international dogs competing at the highest level, as Wim was still handling Saxo. In March this year Caronte del Cangia was the vice-champion in the Grande Quête Pointer Championship. Ilona rates him as the best pointer they have had. Caronte is by Bill della Steccaia (Vento del Frangio – Prunilla della Cisa), a dog Ilona had a special interest in since he was a pup. Vento was by Ribot, Prunilla by Anter. Caronte's mother Greta II was by Nerone (Sansone – Leda) – Zena (Rio – Sibilla), in other words the same lines that were behind their earlier dogs Barbaro and Saxo.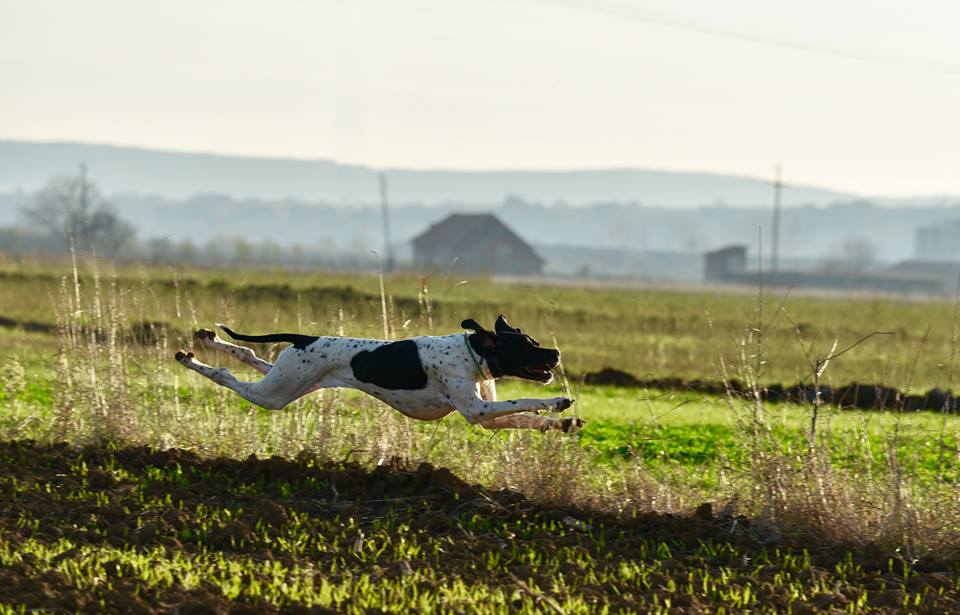 Saxo is now ten years old and Wim, who turned 80 a couple of years ago, is on the lookout for a new pointer. Wim and Ilona have been a steady presence at international European trials for nearly four decades. More than anyone they have been flying the Dutch flag for the English pointer, as consistent non-professional competitors among the elite of professional European handlers.
Written by Frank-Tommy Olsen